Welcome
Sarah Ann Walker is a Scottish Canadian living in Canada with her son.
Sarah's 7th novel (mis)TRUST was hailed as a sexy, beautiful roller coaster you didn't want to get off.
Sarah's 6th novel We are US… was the much anticipated conclusion to her I am HER… trilogy. It was described as breath-taking, real, and a perfect ending to the series that started Sarah's writing career.
Sarah's 5th novel Choices… released July 3rd 2015 has been described as a 'dark, sexy trip through life and salvation'.
Sarah's 4th novel released November 2014, LOST, has been described as 'a beautiful journey through life, love, obsession, and rebirth'.
Her third novel 'My Dear Stranger' was released May 9th 2014 to rave reviews for her sick and twisted love story.
Sarah's first two novels, 'I am HER…' and the sequel 'THIS is me…' were successful beyond Sarah's wildest dreams.
Sarah can be found on Facebook, Amazon, Goodreads, and Twitter.
For signed paperbacks, please contact me here or on my Facebook page.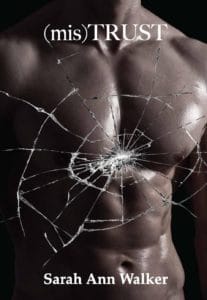 Release Date: June 17th 2016
My mum's words always echo in my mind…
"You can never trust a man with your heart. Men don't know what to do with a heart that's been given to them—so they break it."
But what happens to the woman who trusts with her heart after he breaks it?
I know, she fractures and shatters.
Knowing the definitions of the words that have defined me, this is my understanding.
Trust: To give oneself over to believing in a person or situation.
Distrust: The inability to trust or believe in a person or situation.
Mistrust: To be suspicious of a person or situation because you have no confidence in them.